Hello hello my glorious skinknuggets. Information For Your Spursphere-intersecting-interest:
I, like most UK Comics-writing beerdogs, will be attending the marvellous
MCM EXPO
in London's docklands this weekend. It's about as close as you can get, on this side of the pond, to the Behemoth Cawmic-Cawns of San Diego or New York, with the amusing twist that whereas the US shows started-out being Comic-Centric - but have gradually been subsumed by movie and videogame interests - the London show started as a Movie/Game thing but has expanded its chirpy little "Comics Village" into a Comics Metropolis. Which is awesome, and largely down to the efforts of Comicky Stalwarts like the oh-so-talented
Emma Vieceli
. If you see her, give her a kitten. (A fainting one, for preference.)
So! Should anyone wish to track me down for a Howdy, a WhoTheFuckDoYouThinkYouAre, or a Hug, hereafter follows my schedule. (I was kidding about the Hug. Seriously. Stop touching me.)
SATURDAY 30th OCTOBER:
12pm -- SIGNING at the Comics Village Info Desk.
2pm -- CONTESTING in the 3rd ARTISTS VS. WRITERS no-holds-barred deathmatch smackdown (read: pictionary and taboo) game on the Comics Village stage.
5pm -- BLETHERING in the Comic Writers' Panel on the Comics Village stage.
SUNDAY 31st OCTOBER:
1pm -- SIGNING at the Comics Village Info Desk.
It would be - really and seriously - Lovely to See You. If you can't make it at any of the times mentioned above, your best course is to stand at the bar in the groady little psuedopub opposite the con and pester Gorgeous Maletypes with floppy hair until you get lucky.
Aaaand, vile self-plug, if you're looking for a fun substrate to collect your Spurtastic Signature, might I recommend this week's splendid
X-MEN VS. VAMPIRES #2
, which contains a cheeky little oneshot by yours truly featuring the GREATEST VAMPIRE IN THE UNIVERSE.
I speak, of course, of Moby Dickula: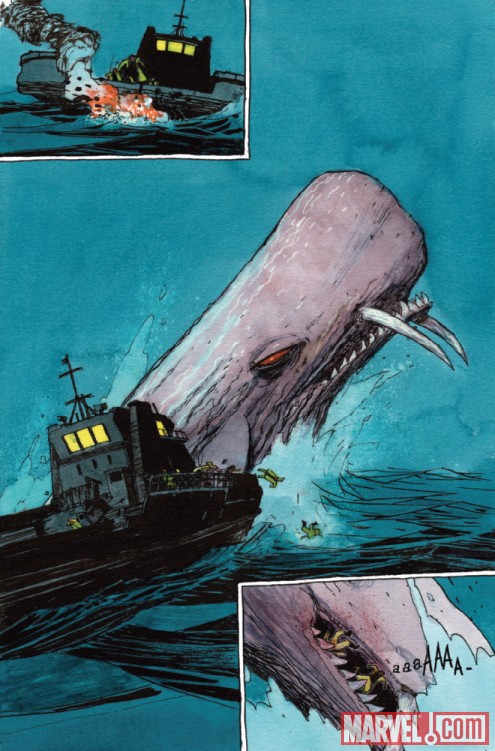 See you there!